All Products Made in the U.S.A.

Our Military Dog Tags are same as those used by the U.S. Military. We purchase our dog tag blanks and chains from the same U.S. Companies our military does.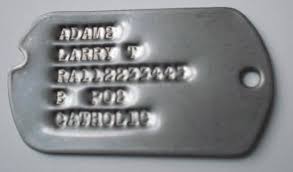 Our Dog Tags are available from us in the Stainless Steel Matte (gray), they have the crimped edge we are all familiar with. This is what our Armed Forces use as standard issue. We also offer ID Tags in stainless steel bright, brass, black - copper and aluminum tags.
Secure Ordering and same or next day shipping are our main stays. We mail via the U.S.P.S. First Class or Priority Mail. Expedited Fed-X shipping available with the tracking number emailed , near end of the ordering process. Overnight, two and three day service available on all orders.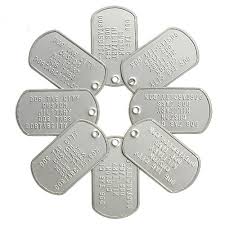 Tag-Tip of the day #03 ~ Guarantee ~
All of our products are guaranteed 100%. If you are not completely satisfied with your purchase, just contact our office within fifteen (15) days of your purchase for return procedures.
We only ship to the United States and Canada from this site. For shipment to International Location
IDeal Medical Awareness Dog Tags !
- actual size is 2" x 1 1/16" -
- 5 lines with caduceus symbol -
solid brass medical tag ! aloha !
FRee
Medical
Wallet Card
With Your
Medical Tag Order - actual size is 2" x 1 1/16" -
- six lines medical tag -
red aluminum medic tag
Medical Tags available in several metal types.
Available with the medical symbol of embossed on four different tag choices.
Secondly is to use 1 to 6 lines of your vital " info " minus the symbol.
Utilize the rubber wrap - around red silencers for maximum exposure.
In case of a medical emergency, these awareness tags will alert medical
technicians to your particular status. Important in a critical situation !
- pet ID tags - The Original Military Dog Tags as Pet ID Tags for All Your Loved Ones ! - pet tags -
IDeal Pet Tags for All Your Pets !
- actual size is 2" x 1 1/16" -
- S / S = Stainless Steel -
- more info, lasts forever -
S/S - miliitary matte pet tag FRee Key Tag
With Every Order - actual size is 2" x 1 1/16" -
- two hole tag -
- Two Hole Pet ID Tag
use split rivets to mount this ID tag
Two hole tags available in stainless steel, bright and solid brass tags.
A task that they are exceptionally well suited for.
Allows up to 6 lines of your " vital information."
Attach these "dog tags" to pet collars and leashes.
Attach to harnesses, carriers, tack, belts and straps.
These pet tags will not rust, crack, fade or lose their uniqueness.
Much more than a small piece of plastic with a name and phone number.
Real Military dog tags are approximately 1" x 2", may be to big for smaller dogs and cats.
Dog ID Tags could help bring your loved ones home during a trying time . . .

Prefer Smaller Aluminum Pet Tags - click tag to view more aluminum pet tags - www.2tags2go.com These tags and
more can be purchased on
another of our pet tag sites.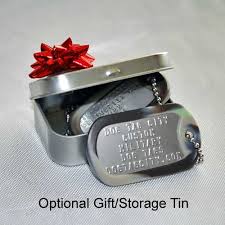 More styles
and colors
available there.
Thanks for
considering us. Prefer A Slide-On Pet Tag, No Dangle - click tag to view more aluminum pet tags - www.2tags2go.com
The link www.2tags2go.com will open a new browser at our other pet tag site.
- personalized military dog tags - The Original Military Dog Tags Personalized for People's IDentification Needs ! - customized military dog tags -
IDeal Personal Tags for People !
- actual size is 2" x 1 1/16" -
- S/S = Stainless Steel People Tag -
- ID Tags for people of all ages -
S / S - polished silver look FRee Key Tag
! aloha !
Your Name
and Phone
With Every Order - actual size is 2" x 1 1/16" -
- one or two holes available -
- birthday party favor -
solid brass ID tag
People Tags available in several metal types.
These low priced ID "dog tags" are IDeal for :
A job well done . Thank you very much !
Family awards for various achievements.
Desirable and inexpensive gifts for all members of your family.
Genuine military " dog tags " is a gift that is always admired and kept.
A great way to show your appreciation to the ones you love the most !
- collectible military dog tags - The Original Military Dog Tags as Collectible Tags for Everybody ! - graphic military dog tags -
Unique Collectors Tags for Everyone !
- military tags -
U.S. Military
Dog Tags - patriotic tags -
Patriotic
Dog Tags - flag tags -
Various Flag
Dog Tags - unique tags -
Various Fun
Dog Tags
Collectors Tags with dozens of images.
Collectors Military tags show your alligence to your favorite military service.
Show your Patriotism with one of these picture(s) tag(s). Many selections.
Flag Tags are always very popular, patriotic and well received everywhere.
Fun Tags are great for children of all ages, many ways to make a statement.
These are great tags to add to your collection by adding some pictures and color.
Makes great gifts for friends, family and acquaintances .